SCAM DETECTION

HERE YOU CAN REVIEW ANY WEBSITE !
Look through positive and negative reviews on any selected domain to decide whether it is safe for your kids and PC or whether it is trustworthy in terms of business.


Scamadviser.com is a FREE website allowing people to quickly check a website they are about to buy something from. Allowing online shoppers to find out those facts they really should know before using their credit cards.
Scamadviser.com can tell you a lot about the reliability of the website such as the domain age, the website speed, the owner identity, the website location and origin and finally a short analysis how safe it is to use.
If you scroll further down you'll probably find some user's reviews which can give you an indication whether or not the site's specific program is safe to use or to subsribe to.
EASYCOUNTER
Here you can get a detailed site analysis including various topics s.a. audience, traffic, subdomains, SEO stats, domain data, social engagement, server info and safety. Click the banner and find out more.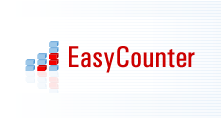 SCAMDETECTOR.INFO provides you with a list of what they call ELITE and LEGIT ptc's as well as a list of suspicious and scam sites.
Check this site thoroughly before you decide to join a specific PTC program.
PTC-LISTING
PTC Listing is about listing some trusted paying PTC Programs. Only trusted paying sites will be listed here. Just click the banner